Picture: ©ZAMG/EODC
The Earth Observation Data Centre for water reources monitoring (EODC) publishes the first global maps of Sentinel-1.
Since April 2014 the earth observation satellite "Sentinel-1" from the European Space agency (ESA),  orbits the the earth for the first European earth observation programme "Copernicus". Originally designed as a radar-mission, the Sentinel-1 operates day and night no matter which weather situation comes across to create pictures of the Earth. During its orbits, it creates scientifically valuable data over land and water which can be used to monitor climate changes or natural hazards.
Receiving and processing data for time-critical applications
The vast amounts of data arising can not be stored by regular computers. For this reason the TU-Wien, ZAMG, GeoVille and Catalysts joined in 2014 and created the Earth Observation Data Centre for Water Resources Monitoring (EODC) to store these precious data and make them accessible as fast as possible. The data are collected with a scientific data-access from ESA via the ZAMG and with the help of a 10 gigabit connection, they are transferred from ZAMG to the TU-Wien. After this they can be processed by the TU-Wien via the EODC infrastructure. Only 6.25 hours after their capturing and 2.5 hours after being processed, the data from Sentinel-1 are accessible on the EODC. A tremendous advantage for whole lot of applications like the early warning systems for natural hazards or the maritime traffic security. In the upcoming months the processing speed and data security will be improved siginificantly through a change in the data access of ZAMG's scientific data portal to a prioritized ESA access. This will make the EODC to one of the top addresses for operative Earth observation satellite applications.
The global view from Sentinel-1
The EODC recently published the first maps of the global reach through Sentinel-1 data. The actual map which was created by the TU-Wien in cooperation with the EODC on 31st August 2015 is compiled by 54.888 vertical (VV) and horizontal (HH) polarized images.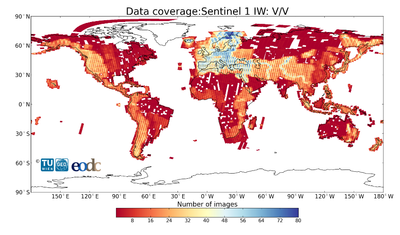 First global reach from Sentinel-1 (ZAMG/EODC)
Web-Links